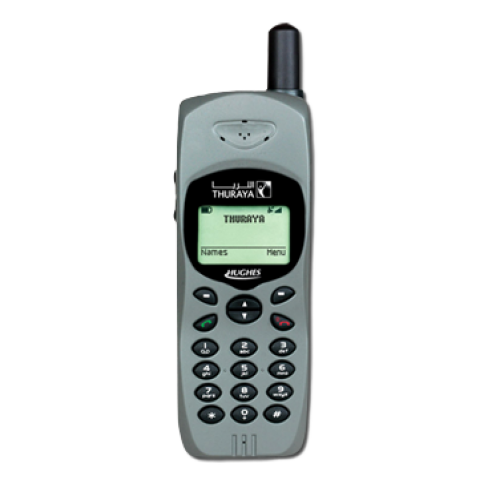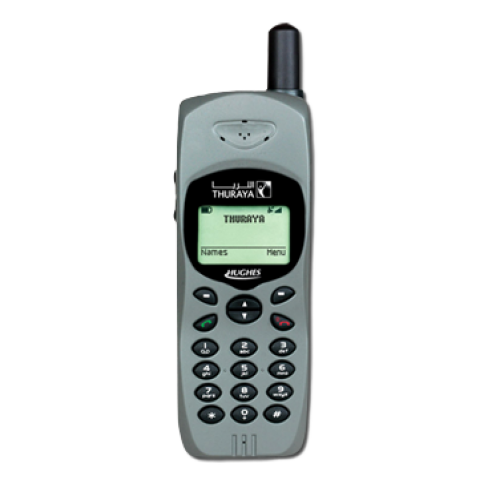 Hughes 7101
Thuraya Hughes 7101 is a satellite handheld mobile phone with integrated satellite, GSM and GPS technology. The Thuraya phone offers a wide range of services including voice, data, fax, short messaging and location determination.
Total Mobile Solution
Thuraya handheld phones opens up a world of roaming. Thuraya enables you to access local GSM networks and link to satellite mode outside of that service area.
If you are in Thuraya's coverage area you can make a call to, and receive a call from, anywhere in the world. If you are outside Thuraya's coverage area you may be able to use Thuraya on GSM mode in areas with compatible standards.
Thuraya Mobile Satellite Services
Features
• User friendly soft key operation
• WAP 1.2 stack
• GPS Distance & Direction GPS location determination and storage of 25 GPS

positions
• GPS location transmission via SMS
• User interface with 9 languages including English, Arabic, French, Deutsch, Italian,Russian, Turkish, Hindi and Farsi
• Voice over Thuraya satellite network and GSM
• Data and fax up to 9600 bps*
• Short Message Service (SMS) with text input For English, Arabic, French, Deutsch, Italian, Russian, Turkish, Farsi
• Supplementary Services
• 16 ringing tones
• Downloading ringing tones (can be sent using SMS to other compatible phones)
• Last 10 calls of missed, received and dialed - With date and time stamps.
• Voice mailbox
• Call cost function**
• Speed dialing
• Signal strength display and mode indication
• Battery level display
• High Power Alerting (HPA)
• Any key ansering
• Clock and date
• 2 alarm clock
• Tone-dialing (DTMF)
• Talk time in satellite mode: 2.4 hours
• GSM mode: 4 hours (minimum)
• Standby time in satellite mode 34.1 hours GSM mode: 33.3 hours (minimum)
• Lithium Ion Battery with capacity of 720 mAh (minimum)
• Weight: 220 grams
*requires data cable
** requires network support
Hughes 7101 Thuraya package includes:
• Dual – mode Satellite/GSM mobile phone
• Lithium Ion battery
• Travel charger-110/220 VAC, 50/60 Hz
• Multi-lingual user manuals